PROFILE
Sunny (Ho's) Co Ltd.
is a leading wholesaler & distributor of household & gift products in Hong Kong & Macau since
1965
.
The company is one of members of Sunny Group chaired by Mr. Ho Man Sun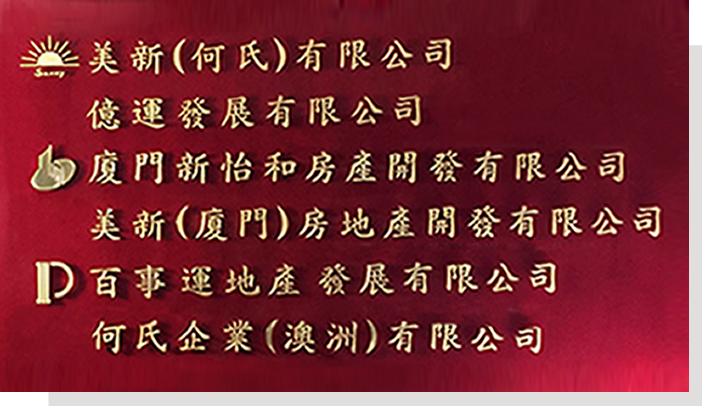 SUNNY(HO'S) COMPANY LIMITED

BILLIONVON DEVELOPMENT LIMITED

XIAMEN XINYIHE REAL ESTATE DEVELOPMENT COMPANY LIMITED

XIAMEN MEIXIN REAL ESTATE DEVELOPMENT COMPANY LIMITED

PLEXVON INVESTMENT PTY LIMITED

HO'S ENTERPRISE(AUSTRALIA) PTY LIMITED

Business Environment
We enhance the home environment of our customers by providing good quality, competitively priced home improvement products through our network from Japan, Korea, Taiwan, Thailand, Germany and Mainland China to local Department store, Chain store, supermarket, household shop and overseas retailers.

Local Customers
Through our strong distribution network, our distribution products can easily be found with outlets in more than 1,000 retailers

Office and Warehouse
Self-owned properties by the proprietors, used areas over 30,000 sq.ft. for office and storage of goods.

Overseas Investment by the Proprietors
Residential & Commercial development in Australia since 1992 Residential & Commercial development in Mainland China since 2000

Management and Services Team
The Company's management and all its staff will use their best endeavors to improve operation and management, make use of favorable commercial opportunities to develop new business and final new basis for profit growth even, so as to provide better returns for the Company.
Major Characteristics Brand of Products
Our Company has been appointed as an authorized agent for the trade of particular brand of products.
Major brands are:
| | | |
| --- | --- | --- |
| Brand Name | Country of Origin | Products |
| Glasslock | Korea | Food containers |
| Chef-Topf | Korea | Cookware |
| Tumblock | Korea | Vaccum Bottle |
| Tenma | Japan | Storage boxes / containers / Kitchenware / Bathware |
| Towa | Japan | Bath accessories / Sponge / Hangers |
| Sai 彩 / Kafuh 花風 | Japan | Ceramic Bowl & Dishes |
| Peacock | Japan | Vacuum bottles |
| Inomata | Japan | Plasticware |
| Pearl | Japan | Kitchenware |
| Fashy | Germany | Hot water bottles |
Particulars of the Company
Name of Company

SUNNY (HO'S) CO., LTD.

Address

Rm 1112, Vanta Industrial Centre, 21-33 Tai Lin Pai Road, Kwai Chung,. New Territories, Hong Kong.

Contact Method

Phone:

852-23891331 (5 lines)



Fax:

852-23430086



E-mail:

sunnytd@biznetvigator.com



Website:

www.sunnyhos.com.hk