PROFILE
The Sunny (Ho's) Company Limited
is a wholly-owned subsidiary of Sunny Group.
Established in 1965,
Sunny (Ho's) Company Limited
is one of the leading wholesalers of consumer goods in Hong Kong. The company offers a wide range of high quality merchandises sourced regionally and has been a constant supplier to local department stores, chain stores, supermarkets, and oversea retailers for over 50 years.
Property Investments
The Group has a portfolio of commercial and residential investment properties in Hong Kong, China and Australia.
In Hong Kong, the Group operates a mixed-use office and warehouse with a total sales floor area of approximately 25,000 square feet.
The group has been in Australia since 1992, and successfully in Balmain, Gordon, Marsfield, Rockdale, Neutral Bay and Blacktown. This series of projects have won the Äustralian Architectural Association Innovative Ideas Professional Award.
Since 1997, it has owned Grade A real estate in Xiamen, Fuzhou, Wuxi and other places in China.
Hospitality Investments
From the year of 2022, the Group has expanded the investment portfolio by investing into some of Hong Kong's most renowned F&B establishments, including fast casual chains, fine dining establishments and entertainment concepts.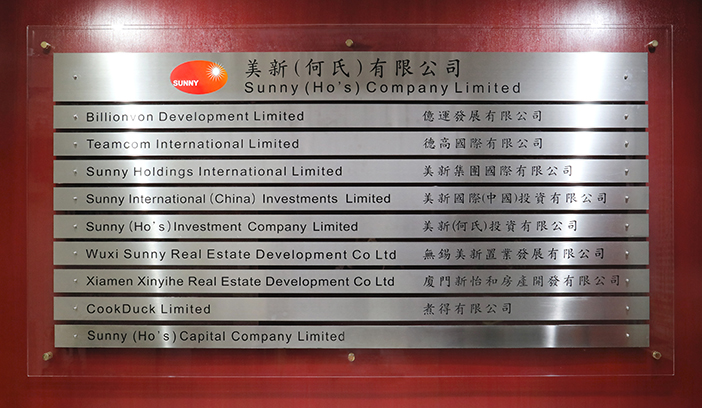 Major Characteristics Brand of Products
Our Company has been appointed as an authorized agent for the trade of particular brand of products.
Major brands are:
| | | |
| --- | --- | --- |
| Brand Name | Country of Origin | Products |
| Neoflam | Korea | Cookware |
| Glasslock | Korea | Food containers |
| Chef-Topf | Korea | Cookware |
| Tumblock | Korea | Vaccum Bottle |
| Tenma | Japan | Storage boxes / containers / Kitchenware / Bathware |
| Towa | Japan | Bath accessories / Sponge / Hangers |
| Sai 彩 / Kafuh 花風 | Japan | Ceramic Bowl & Dishes |
| Peacock | Japan | Vacuum bottles |
| Inomata | Japan | Plasticware |
| Pearl | Japan | Kitchenware |
| Fashy | Germany | Hot water bottles |
Particulars of the Company